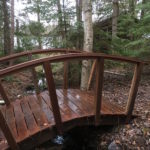 Today was filled with a lot of activities at Rockwood. We had two awesome guests in Cabin 2 all week, celebrating their honeymoon at Rockwood Lodge! They reported seeing a cub bear, moose, and many different animals on their hiking trips. They especially liked getting up and personal with a Loon on Poplar Lake while they were canoeing. I saw two fox today myself, or maybe just one fox that really liked to scoot.
We are prepping other cabins, getting new mattresses in and taking old mattresses out. Each one is getting a thorough cleaning, with Stephanie and Carol looking at furniture arrangement while Mike and Carl are fixing things. It's a good thing we each have over a decade of experience in the maintenance and construction industries. Bonus: we get to use ALL of our tools!
I cut a bunch of the trees that fell across our section of the South Lake Trail that's on our property. Using a chainsaw when trees are leaning on each other is an interesting task. The loppers also turned out to be a very handy tool.
Overnight the last two nights Mike and I have been watching the temperatures drop below 32 degrees. Mike turned on the waterlines to most of the resort last week, it was very nice and we had guests. Well, now with a low of 23 degrees, the fact that the waterlines are above ground leads to some tense moments. We kept the tap on in some cabins, covered some waterlines, and checked everything a couple times each night. So far, so good!
Our bunkhouse has been busy lately. The fishing opener drew a couple different groups to Rockwood, who left at Sunrise to go test the lakes for Lake Trout and Walleye. An awesome feature of owning a resort is sometimes the guests bring back fish to share! I can't wait to put that beauty trout on the grill. Maybe I'll get Mike to fire up the smoker…
The new canoe stickers are looking really good. With my military background I've always wanted each canoe to have it's own number, and now I'm starting to get that task done. However, the temperatures need to be rather warm to get good adhesion. I'll have to wait another week!
The Lodge is looking great. We found a place to purchase a replacement glass globe for the cool lanterns on the front of the Lodge. Once we get LEDs lamps in there and a day/night timer, we'll have gorgeous lights on the Lodge again! The gift shop is looking good, with Carol and Stephanie working hard to re-imagine the store. The software isn't playing nicely, but we've got workarounds. The good news is that all of our new t-shirts, sweatshirts and hats are Made in the USA! And at $20 for a t-shirt and $55 for a zip-up hoodie, they aren't too expensive. The hats will be here this week and we'll figure out prices.
Big Bear has a great dining room in their Lodge called The Dancing Bear. We paddled over there last week (we could have drove, but the canoe is so stylish) and enjoyed some amazing meals. It'll be a great resource for our guests.
Windigo is really doing a great job with their menu, and we are proud to offer their breakfasts served at Rockwood to our outfitting guests! Rockwood Lodge used to be a destination steak house, and from 1979-1999 was "the" place to be. When I was first here in 1989 we had a great breakfast in the Lodge before we paddled across Poplar, and I wanted to bring that back. With the good people at Windigo, we are now able to!
We met some awesome neighbors that live on Loon Lake, dropping off their lake water samples, using Rockwood as their collection point. Mike and Lin had so many agreements going on, it's good to honor them! Another neighbor was checking on her island, watching her husband motor across the lake for the first time this season. Did you know that Poplar Lake has 30 islands?
I found some time to get the Van ready for a hiking transport for tomorrow, and I stuck some canoe stickers on the rear window. Not bad for a 26 year old van! We'll get it replaced in a season or two, but it's running fine.