Rockwood Lodge and Outfitters
--- On the Gunflint Trail ---
8 lakeside cabins and a full canoe outfitters on the edge of the Boundary Waters in Northern Minnesota
Call 218-388-2242
Rockwood Lodge and Canoe Outfitters is a historic resort on Poplar Lake 31 miles up the Gunflint Trail from Grand Marais with direct entry into the BWCAW. We feature eight pet-friendly lakeside cabins and canoe outfitting services including canoe rental, gear rental, complete food, bunkhouse, showerhouse-everything to make your wilderness trip successful.
Most of our cabins are open Mid-May through the third week of October, closed in the Winter.
Check out our latest addition - we made the former's owner house a rentable cabin (Cabin 12) and it is available year-round.
The Outfitting building shares the same area and is a complete outfitters for beginners to seasoned pros. High quality Kevlar, Royalex and Aluminum canoes,...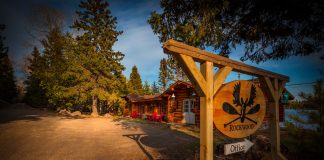 June 2018, 5 stars on Google: This place is amazing . Cabins are very clean and stocked with anything you really need. They offer a...