Rockwood Lodge and Outfitters
--- On the Gunflint Trail ---
8 lakeside cabins and a full canoe outfitters on the edge of the Boundary Waters in Northern Minnesota
Call 218-388-2242
Rockwood Lodge and Canoe Outfitters is a historic resort on Poplar Lake 31 miles up the Gunflint Trail from Grand Marais with direct entry into the BWCAW. We feature eight pet-friendly lakeside cabins and canoe outfitting services including canoe rental, gear rental, complete food, bunkhouse, showerhouse-everything to make your wilderness trip successful.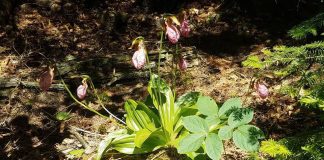 Did anyone lose their ladyslipper on South Lake Trail? Photo by guest Kurt Mobroten at Partridge Lake campsite.
Our 7 cabins are cozy little areas for you to get away from everyone and be right on the lake; each has an outdoor...