Rockwood Lodge and Outfitters


Map to Grand Marais, MN

Rockwood is a unique and historic resort on the Gunflint Trail on the Eastern half of the Boundary Waters Canoe Area Wilderness. Located on the 31st mile of the 57 mile long Gunflint Trail, we actually have a section of the original gravel trail that goes through our resort!  Even the Lodge (built between 1926 and 1932) is an original building, handcrafted from native Pine with a large meeting room and gift shop next to the front counter.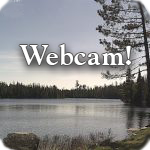 The Outfitting building shares the same area and is a complete outfitters for beginners to seasoned pros. High quality Kevlar, Royalex and Aluminum canoes, bent shaft paddles, high quality tents and sleeping bags are all available for your trip. We carry enough food for your entire group so you don't have to spend your time preparing for your trip. We even have a bunkhouse with showers in each room, so you can drive up late the night before and still get a good nights sleep and one last shower before heading into the Boundary Waters.

Day trips are a great way to get started or for those of us who are not interested in a tent; rent one of our cabins for a couple nights; each cabin comes with a canoe, which you can take into the BWCAW, bring a lunch and come back home each night to sleep in a warm bed and enjoy a warm shower.
Rockwood Lodge has a great environment for those who want to wind down, take things slow, enjoy the views. Are you writing a book or working on a painting? Need time away from the city? Want to see some amazing waterfalls and sample everything the Gunflint Trail has to offer? Spend some alone time with yourself? Have a vacation with a family member? Looking for Moose, Lynx, Wolf, Fox? Rockwood is your place.
Our 7 cabins are cozy little areas for you to get away from everyone and be right on the lake; each has an outdoor charcoal grill, two have wood burning fireplaces, two have gas fireplaces, all have full kitchens and CLEAN bathrooms with showers, sinks and toilets. Fresh linens and towels are provided as you need them. We are pet friendly but require a one-time fee for each pet. Each cabin comes with a canoe, and we have boats and kayaks for you to try.
Fishing and Rockwood Lodge often go hand-in-hand. When you stay at Rockwood we'll always point you in the right direction to catch walleyes, lake trout, smallmouth, panfish and northern pike. We can connect you with guided services for fishing. We have a fish house where you can clean your catch, and the cabins have full kitchens to help you prepare your feast.