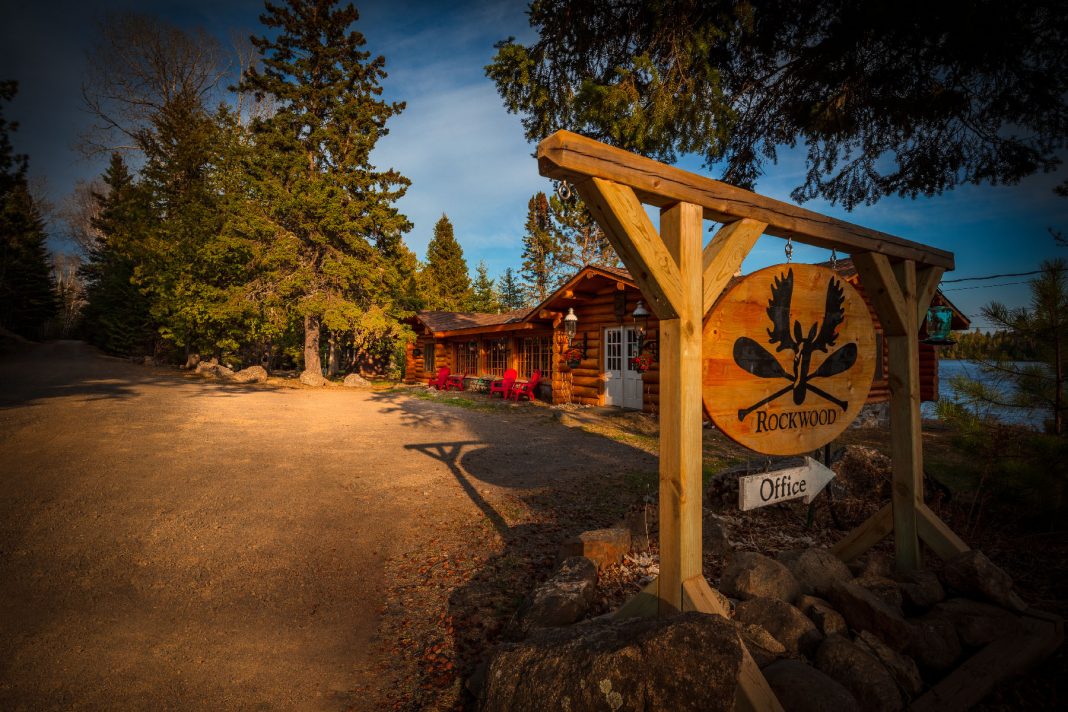 October 2018, 5 stars on Tripadvisor: Rockwood Won't Disappoint – We stayed in the bunkhouse twice now before entering the BWCA. It's perfect, you launch your canoes right from their shore and after a short paddle across beautiful Poplar Lake you are almost in the BWCA. Customer service can't be beat. Rockwood is rustic and charming, that's what makes it great! If you are looking for a 5-star resort with a golf course, a pool, a fitness center, room service, fine dining, and nightlife this isn't it. If you are looking for a 5 star experience, this is your place! Kick back and relax, unwind, breathe the fresh air, go for a paddle, take a hike, possibly see a bear, moose, or a bald eagle. Drop a line in the water and catch dinner. Stop by the lodge on a rainy day to play a game or read a book. Sit and chat with the owners. I'm a Rockwood customer for life, I just wish that I would have found it earlier so I could enjoy it that many more years. -Joel L.
February 2019, 5 stars on Tripadvisor:
Hidden Gem of a Cabin
We were looking for a winter getaway, full of nature and outdoor activities that didn't involve snowmobiles, that also allowed dogs. Rockwood Lodge owner Carl offered us Cabin 12, which is the only cabin he offers in winter. It was perfect. Warm and cozy cabin with gas fireplace, comfortable furniture and beds, kitchen/bathroom has all the basics, unbeatable views, nature surrounding us, peace and quiet. We will come back. -Jennifer
January 2019, 5 stars on Google: Friendly, knowledable staff. They planned a perfect canoe trip to fit our time frame. Great tips. The bunkhouses we're nice to stay in overnight before our trip. Simple and rustic. No frills. Showers were simple and cheap after we got back. Enough warm water for 2-4 people to shower and then it starts to cool down but just what was needed to return to civilization and they had towels, shampoo, and soap. They provided any equipment you needed. We had backpacking supplies and food so only needed canoes, paddles, and lifejackets but they had anything else you could need. Full camping gear sets and food. Nice restaurants nearby. -Caitlin

November 2018, Recommended on Facebook:
Carl's shuttle for our canoe trip was excellent. On a different get-away, the cabin rental was great for a quiet retreat with my wife. We hope to be back. -Michael
November 2018, 5 stars on Facebook:
I love this place!!! -Suzanne
October 2018, Recommended on Facebook:
Rockwood does a fantastic job caring for their customers. They are friendly, helpful, and generally just great people all around. They know the area well and are very helpful with route planning, tips, tricks and advice. Can't wait to go back for the 3rd year in a row. The BWCA is wonderful in its own way, Rockwood just makes the experience that much better. I read a lot of reviews and decided last year to give them a try, I sure am glad that I did. Thanks Rockwood team! -Joel

June 2018, 5 stars on Google: This place is amazing . Cabins are very clean and stocked with anything you really need. They offer a canoe with each cabin rental. The staff is so sweet and very informative, always striving to make your stay that much more amazing. The view is absolutely beautiful looking onto poplar lake . I have been coming back to this place for a few years. Even brought up my friends family to share the experience. This is definitely a place your children will also love. I have children ages 17, 13, and 8. -Kelly
September 2018, Recommended on Facebook:
Yet another great time in cabin 9! Mike and Carol and Carl and Stephanie make great hosts and made us feel very welcome. From the moment we drove in until we had to say good-bye we felt catered to unlike any other Lodge we've ever visited! I only wish Carl could have made the smallies bite better 😉.
If you're looking for a genuine cabin-on-a-lake vacation, look no further – Rockwood is your place!! -Frank and Jolene
September 2018, Recommended on Facebook:
Mike and I have loved our past week there. The guys and gals are great owners!! -Suzy
September 2018, 5 stars on TripAdvisor:
My wife and I used Rockwood Lodge for a week long outfitting trip into the BWCA the week of Labor Day. This is the second time we have used their outfitting service and it's for good reason. They have only owned the resort for a few years now and it is so cool to see all the progress they have made on this place over the last 3 years.
Their bunkhouse are adequate, their equipment is second to none, and their prices are reasonable. We love the fact that we can take off right from the resort and don't have to load all our stuff on the car and drive off some place to launch.
But were these guys really shine is their service and how friendly they are. Mike and Carl are such great guys and just so helpful. We got there a bit early and my wife has always wanted to try paddle boarding. Not only did they tell my wife she could give one a try, Carl took her out and gave her a lesson.
We will be back for sure and the next time we would like to rent one of their cabins for a few days as well. -Brian
July 2018, 5 stars on Facebook:
This place is heaven on Earth. The staff is amazing. I was here around 8 years ago and was bound and determined to come back again. This time, I brought the entire family and they fell in love with it as well. Great community of folks who live and breathe the BWCA. Cabin 2 was awesome and am looking forward to coming back next year and getting into Cabin 12. Thanks Rockwood for an excellent vacation. -Lori
September 2018, 5 stars on google:
we had a wonderful labor day weekend at rockwood lodge, cabin #7! the cabin was super clean, and the view of poplar lake from our deck was amazing. we loved having our own dock to fish and swim from, as well as our own canoe. carl at the lodge couldn't have been more wonderful to work with and host our weekend (including spooking my kids a little bit with the "talking doorbell"!)… they even loaned my kids fishing poles when we realized we didn't have any. if you are looking to experience the bwca/gunflint trail and get close to the wilderness without having to sleep on the ground, look no further than rockwood. from the loons to the star gazing, the fishing and the bonfires, it was a perfect weekend at a perfect location. -ashley
August 2018, 5 stars on Google:
Love, love, love and will be back next year! Thanks to all you guys! From helping the kids paddleboard, to giving directions for hiking trails, where to get a cocktail and where to find the best milkshakes, the staff was amazing. Love cabin 12. The only sound in the morning is a loon – and they don't even wake up early! Perfect! Cabin was beautiful, the view can't be beat, the peace and quiet invaluable. Next year we'll venture farther into the Boundary Waters. Can't wait to see you. -Nikki
August 2018, 5 stars on Google:
Very helpful. They have everything you need and don't push you to buy things you don't need. -Jonathan
I would definitely recommend Rockwood to anyone interested in exploring this beautiful area. -Ed
June 2018, 5 stars on Google:
Arranged a trip into the BWCA through Rockwood. I had never been to the Eastern area of the wilderness. Mike and Carl were very helpful with my route plan. They took care of our permit for us. Stayed in the Spruce Bunkhouse the night before we headed out. We showed up a couple hours early and everything was clean and ready for us. We only rented canoes, but they were in great shape. Carl had the canoes loaded and the coffee ready for us bright and early. He gave us some nice history of the area on our way to the drop off. I would definitely recommend Rockwood to anyone interested in exploring this beautiful area. -Ed
July 2018, 5 stars on Google: 
This was my second visit to Rockwood Outfitters and it was even better than the last visit! They give you plenty of equipment to ensure a great camping experience, they are super nice and care about you having a great time. We just came back and on Friday experienced a terrible storm and they actually came to the portage to "rescue" us from the storm and gave us a boat ride back to the outfitters cabin. It was fantastic, above and beyond anything we could have expected. The cabins are simple but clean and nice for staying in and even the shower house had extra towels and soaps to use in case you forgot yours or were just low. There aren't enough stars to give them, i'd give them 10! -Annette
July 2018, 5 stars on Facebook: Back at work this morning after a week at Rockwood. It was hard to leave. We stayed in Cabin 12 and absolutely had an awesome week. Carl, Stephanie, Mike and Carol – hats off to all 4 of you and all the long hours you work to make sure everyone's stay is enjoyable! Canoeing, kayaking, paddle boarding, fishing, hiking, visiting with Fresca, Jack & Gunner (their dogs), waterfalls, State Parks, Grand Marais, wildlife viewing, FRESH AIR, and no day-to-day city noises. Can't thank you all enough for what you do there! We look forward to coming back!! -Pete
July 2018, 5 stars on Google: Awesome place to get away! You cant find peace like that anywhere else! -Travis
July 2018, 5 stars on Google: Our family could not ask for better service. No matter what your "adventurous" friends tell you, BWCA is completely attainable for families. Places like Rockwood make it possible. Carl and the crew have been crazy-helpful and I wouldn't go to another outfitter hands-down. Excellent experience and categorically recommended. -Andy
July 2018, 5 stars on Google: I've been to Rockwood twice in the past few years, and had great experiences both times. Can't wait till next year! -Rachel
July 2018, 5 stars on Facebook: What an amazing place. I think we'll have to make this an annual trip! -Sharon
June 2018, 5 stars on Google: Our family could not ask for better service. No matter what your "adventurous" friends tell you, BWCA is completely attainable for families. Places like Rockwood make it possible. Carl and the crew have been crazy-helpful and I wouldn't go to another outfitter hands-down. Excellent experience and categorically recommended. -Andy
May 2018, 5 stars on Google: Beautiful place! Caught a big bass off the dock -Ben
May 2018, 5 stars on Google: Wonderful accommodations, fair price and very pleasant hosts. I'm excited to see the sweat equity they're putting into the place to make it even better. -Ted
February 2018, 5 stars on Facebook: We've used Rockwood the last few years for trips into the BWCA. The bunkhouse is always clean and ready for us before we start our trip. Staff is very friendly and knowledgeable. -Bryan
September 2017, 5 stars on Facebook: Fantastic people, I couldn't have been happier with the experience I had here. After a tough couple days on the border route trail, the staff adapted to our needs and assisted us in getting to our vehicle early than anticipated. The facilities are clean and the shower house is a god sent at the end of an excursion!! -Chris
August 2017, 5 stars on Facebook: Carl and mike went out of their way to make sure our questions were answered, and our needs were met! You can tell they truly love what they do!! Our trip was a success thanks to Rockwoods!! -Peter
August 2017, 5 stars on Facebook: We had a great experience booking Rockwood Lodge and Outfitters. The bunkhouse where we stayed prior to entry into the BWCA was spotless and the private bathroom was more than we expected. The canoes were high tech and top of the line. We were sent off in the morning by the owners and welcomed back upon our return. They let us use the hot showers when we got off the lake after our stay in the Wilderness. These people did a fantastic job. If you enter the BWCA through entry point 47, I would start your trip at Rockwood Lodge on Poplar Lake. Nice job! -Rick