Superior National Forest and BWCA Hit by Derecho on July 4th, 1999
Many of us in Cook and Lake County had never heard the word "Derecho" until a massive summer storm knocked down an estimated 25 million trees in the Superior National Forest and a large part of the BWCAW the afternoon of the Fourth of July in 1999.
In the early hours of that day, a large thunderstorm developed over the eastern part of North Dakota. After causing significant damage in and around Fargo, the storm built in intensity and raced across northern Minnesota, leaving massive destruction valued at over $3 million in Cass, Itasca, and Aitkin counties.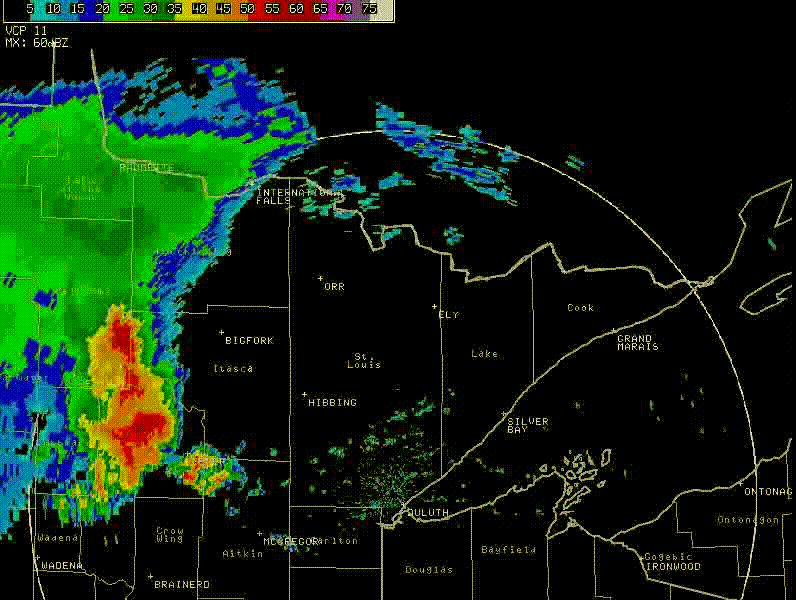 A Derecho, pronounced de-Ray-Chow, is a large-scale weather event when the wind damage swath is more than 240 miles long, and wind gusts exceed 58 miles per hour.
As the storm moved into the Superior National Forest, its straight-line winds blew between 80 and 100 mph. It flattened 477,000 acres of forest, including 370,000 acres inside the BWCAW. An estimated 25 million trees were uprooted or broken off during the storm, which moved through the area in about 20 minutes.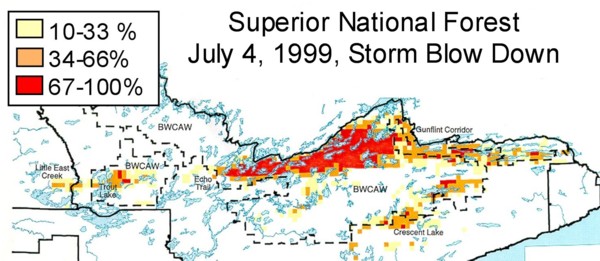 The storm moved into the Quetico and across northwest Ontario with winds exceeding 100 mph and traversed Canada, covering more than 1,300 miles in 22 hours.
Witnesses reported calm winds with the sky a greenish color associated with tornadoes just before the storm hit.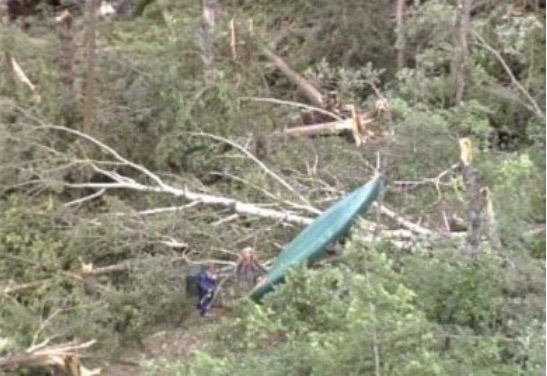 This particular Derecho called a Progressive Derecho, is considered one of the farthest north examples of this type of storm ever recorded.
No one was killed in the BWCAW that day, but 60 people were injured by falling trees and debris blowing around. Some were evacuated by float plane.
Later that day, the storm dropped six to eight inches of rain in the southern part of Cook and Lake County, leading to flooding and washouts that made many roads impassable. Travel throughout the Arrowhead was difficult for the next few days.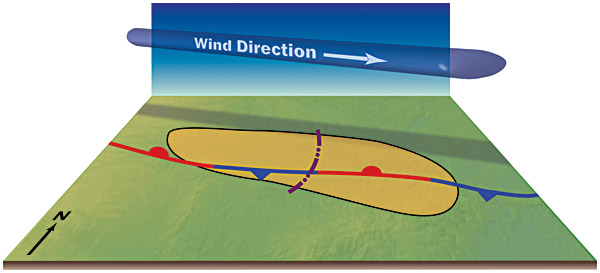 The USFS made some downed trees in the Superior National Forest available for selective harvesting. Others were destroyed in prescribed burns. Much of the downed areas were left as they were.
The Gunflint Trail saw thousands of volunteer hours clearing portages, repairing campsites, and making forest roads passable.
About a third of the tragic Ham Lake Fire in 2007, which burned 76,000 acres, had been in the blowdown area.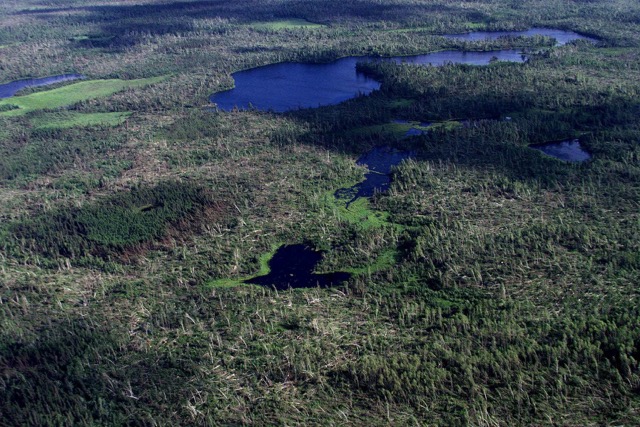 The Derecho in 1999 took down decades-old White Pine and Red Pine trees. Mother Nature regenerated the forest in the devastated areas with Spruce, Fir, Cedar, Birch, and Aspen trees. Wildlife flourished.
In the last two decades, technology has dramatically improved weather forecasting, which will alert residents and visitors alike if a future Derecho were to target our area. Satellite communications equipment will help get a warning out to wilderness travelers.
Our forest is an ever-changing environment. It is a beautiful, soul-regenerating place to visit.