270 Overlook Border Route Trail
Tuesday, October 12, 2021: Hiked to the 270 overlook at the intersection of the Superior Hiking Trail and the Border Route Trail.
Started by driving the Gunflint Trail to Greenwood Lake Road, and traveling nearly 4 miles to Shoe Lake Road. The intersection is wide, just after a bridge, and there are road signs just like in the big city. Another 17 miles of Shoe Lake Road gets you to the Arrowhead Trail. (If you are starting at Grand Marais, drive 61 North to Hovland, turn left on The Arrowhead Trail / County Road 16, then North 11.6 miles to Otter Lake Road, turn right.) South on the Arrowhead for just over two miles, turn East onto Otter Lake Road ( look for Esther Lake Road signs going West, but turn East onto Otter) . Nearly 4 miles of Otter Lake Road, a narrow, bumpy forest logging road that dips and bumps and zigs and zags. They've maintained it since I first drove it 6 years ago, when you really needed a 4wd vehicle to ford through a creek that crossed the road. Now it's accessible by nearly any type of city cruiser, except possibly the low riders.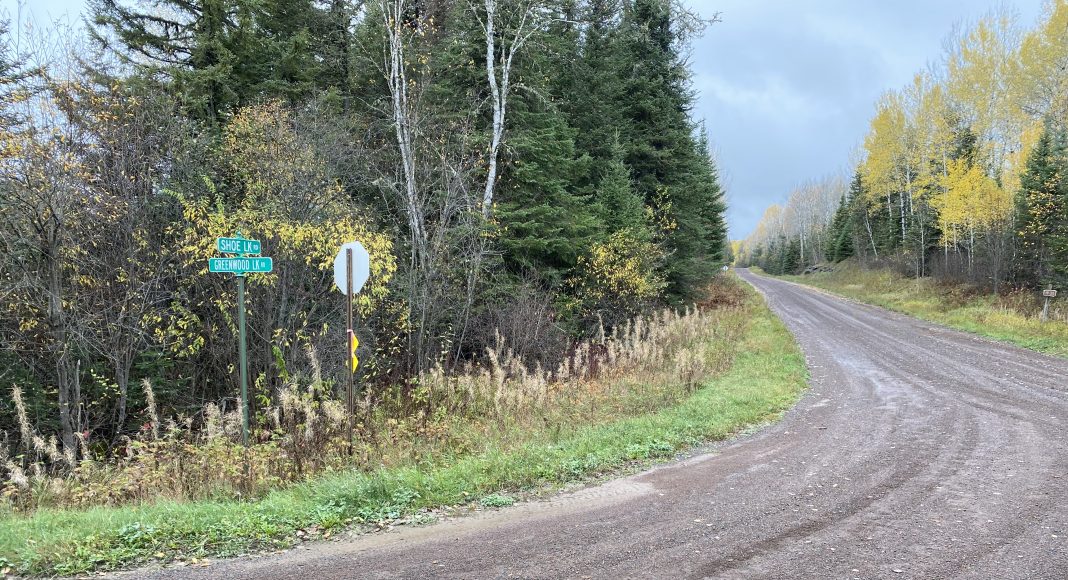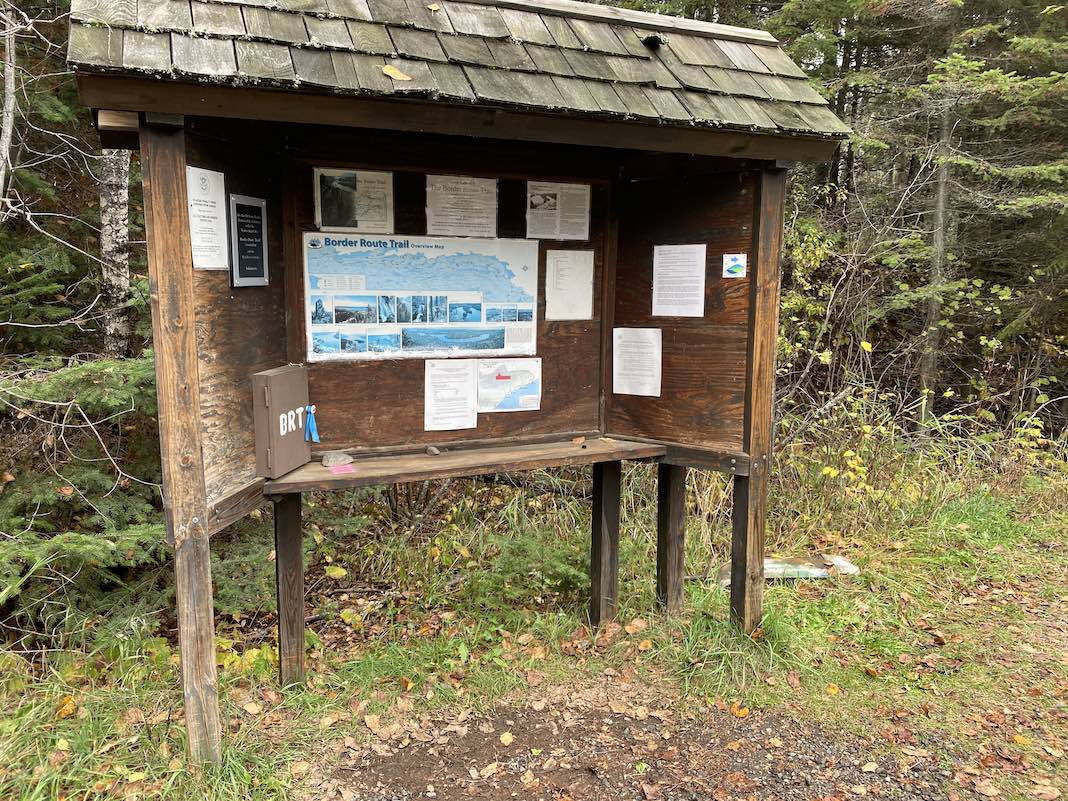 There's a nice parking lot good enough for 3 or 4 cars at the trailhead. It's the Eastern Terminus of the Border Route Trail, and nearly the Northern Terminus of the Superior Hiking Trail. I say nearly, because there's a 1 mile hike North to the 270 overlook, which is the official Northern Terminus of the Superior Hiking Trail (SHT). So, the two overlap by .9 mile. Blue vertical blazes adorn the trees and small Superior Hiking Trail emblems are visible along the hike. I didn't see North Country Trail emblems, but I know that this hike is part of the NCT route.
The path is wide and well maintained, with only one deadfall and a small stream to cross, barely getting your feet wet. The last quarter mile is uphill, gradually at first and then steeper towards the destination. Granite outcroppings are visible, and there is a sign that reminds you to turn to see the 270 overlook. This last path is up a steeper rock grade, and you have two locations to view the vista. The first one looks directly east, while the second one has an official "Northern Terminus SHT" sign and a little metal disk in the ground as a survey marker.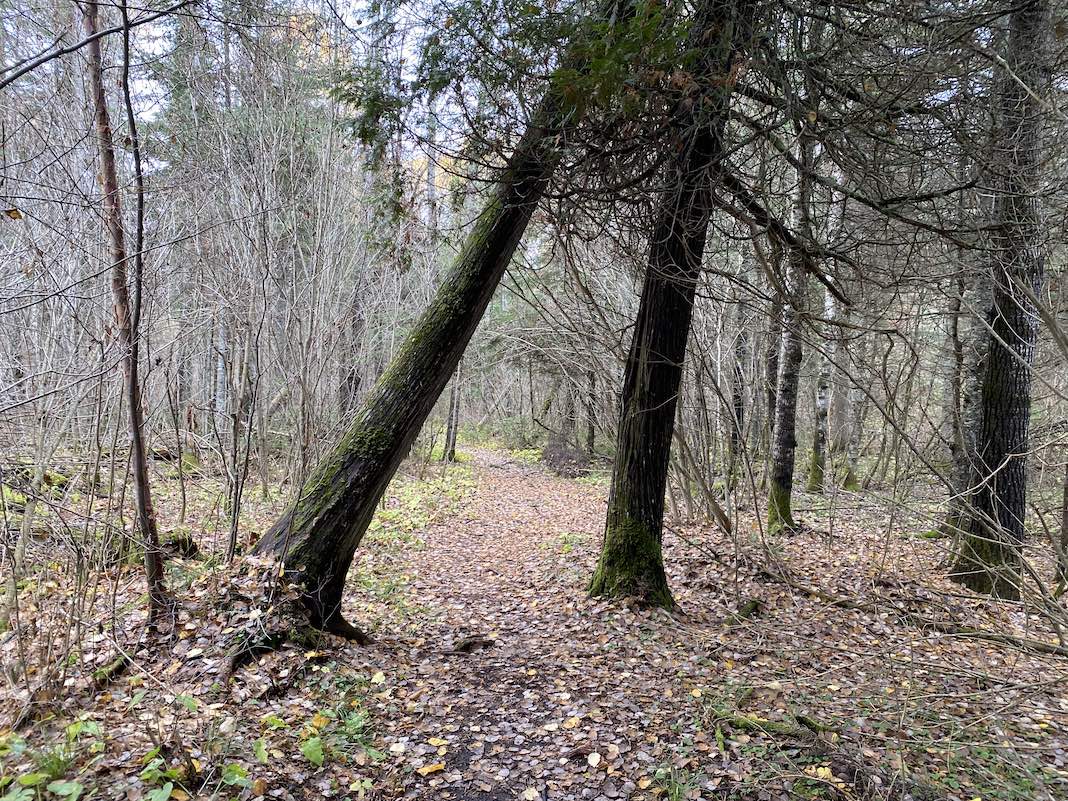 The view is spectacular. You can see a very long ways in three directions, and the Pigeon and Swamp Rivers are visible. There's a prominent flat top hill in the far distance somewhere in Ontario. In mid October most of the birches have lost their leaves, but there's still significant color throughout.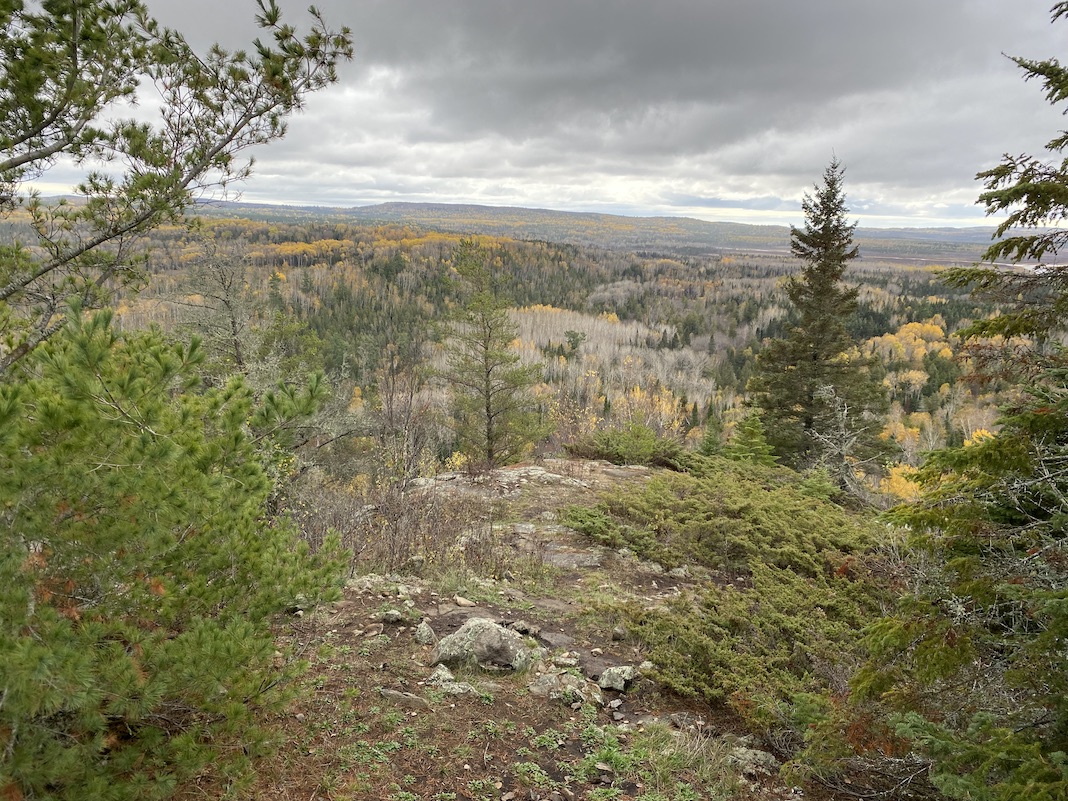 I then took the Arrowhead trail back to Hwy 61, to Hovland, then down the North Shore of Lake Superior to Grand Marais. There's a WONDERFUL shop in Hovland called Chicago BayMarketplace, selling sandwiches and cinnamon rolls. They have limited days they are open, so if you see the Open sign, just pull in and enjoy!