Poplar Lake (764 acres) in Cook County, Minnesota is outside of the Boundary Waters and can have any size boat and motor. Airplanes used to land on on the main body and taxi into Rockwood bay, but that's seldom seen lately. There are a lot of hidden boulders just under the surface of the water, so be careful throughout the lake. Maximum depth is 73 feet and water clarity is over 10 feet. There are 3 entry points into the BWCA: EP 47 Swamp / Lizz, EP 48 Meeds, and EP 49 Skipper / Portage. The southern shore is managed by the US Forest Service and has no development, while many of the islands and the rest of the shoreline has cabins, docks, resorts, restaurants, gift shops, bait shop, gas stations, bed and breakfasts, and even a public landing / concrete boat launch.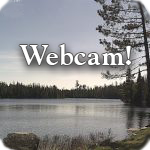 The history of Poplar Lake includes a sawmill by the Meeds entry point, a railhead where Camp Rockwood was formed, and even a resort on an island.
There's walleye, northern pike, smallmouth bass, whitefish, burbot, black crappie, pumpkinseed, and yellow perch. Here's a nice fishing report from Northern Wilds.
In the winter Poplar Lake is the start and end point for the Gunflint Mail Run, a competitive dog sled race with up to 30 teams on the first weekend of January.
There is a lake association ran by the property owners on Poplar Lake, and the lodging businesses are part of the Gunflint Trail Association.