About us…
UPDATE February 2020 – It's been four years and we are entering our fifth year of operations. Time has zipped by, and we find that today's priorities are similar to those four years ago. This post has been our website the entire time, and here's a link to a nice article written about us in the local newspaper.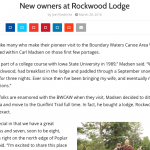 November 2015 – We purchased Rockwood Lodge from Mike and Lin in November of 2015. My first trip to Rockwood was in 1989, and I've been a loyal customer ever since. For the last 13 years we've been coming up to help Mike get the cabins ready in the spring, and help with the outfitters when needed. My name is Carl, and my wife Stephanie is almost more excited about this new adventure than I am. Her sister Carol and husband Mike will be coming up in the Spring, moving in full time to help us run the resort. Carol's background is in retail and history, while Mike has been fixing apartments for twelve years, in between hunting and fishing trips. Together we have three dogs and look forward to making Rockwood even more pet friendly by adding a dog run!
Our goal is to be as good as hosts as Mike and Lin Sherfy were; that's actually a high bar, they were the friendliest hosts, making everyone feel like family. They successfully ran Rockwood for over 13 years, and the resort is better because they were here. We wish them well in their future endeavors!
We have several immediate plans for Rockwood, including turning the owner's residence into a year-around cabin, and adding one more small cabin along with several other buildings. We are pricing new mattresses, adding to the fleet of canoes and installing high speed wifi throughout the resort. We are keeping all the rates on the cabins the same for 2016 but there is a small change to the deposit policy. We changed some of the structure of the outfitting rates, trying to keep the rates close to what they were last year. Things will be tight, but with adding cabins and hopefully increasing the number of trips through outfitting we can make it work at the current rates.
Anyway, I hope to meet each of you next year, we'll do our very best to make you feel comfortable. We feel like caretakers of a historic resource, and are very proud to finally own Rockwood!