Cabin 3 is an original small cabin (up to 4 people) with a living area, kitchen, bathroom and bedroom, perfect for 2 but can sleep 2 more on the double size sleeper sofa.The deck is within a few steps of the dock, and the original log details makes this rustic cabin feel comfortable. Open May through October, closed in the winter; see availability calendar at the bottom of this page.
Book Cabin 3 online!
Rates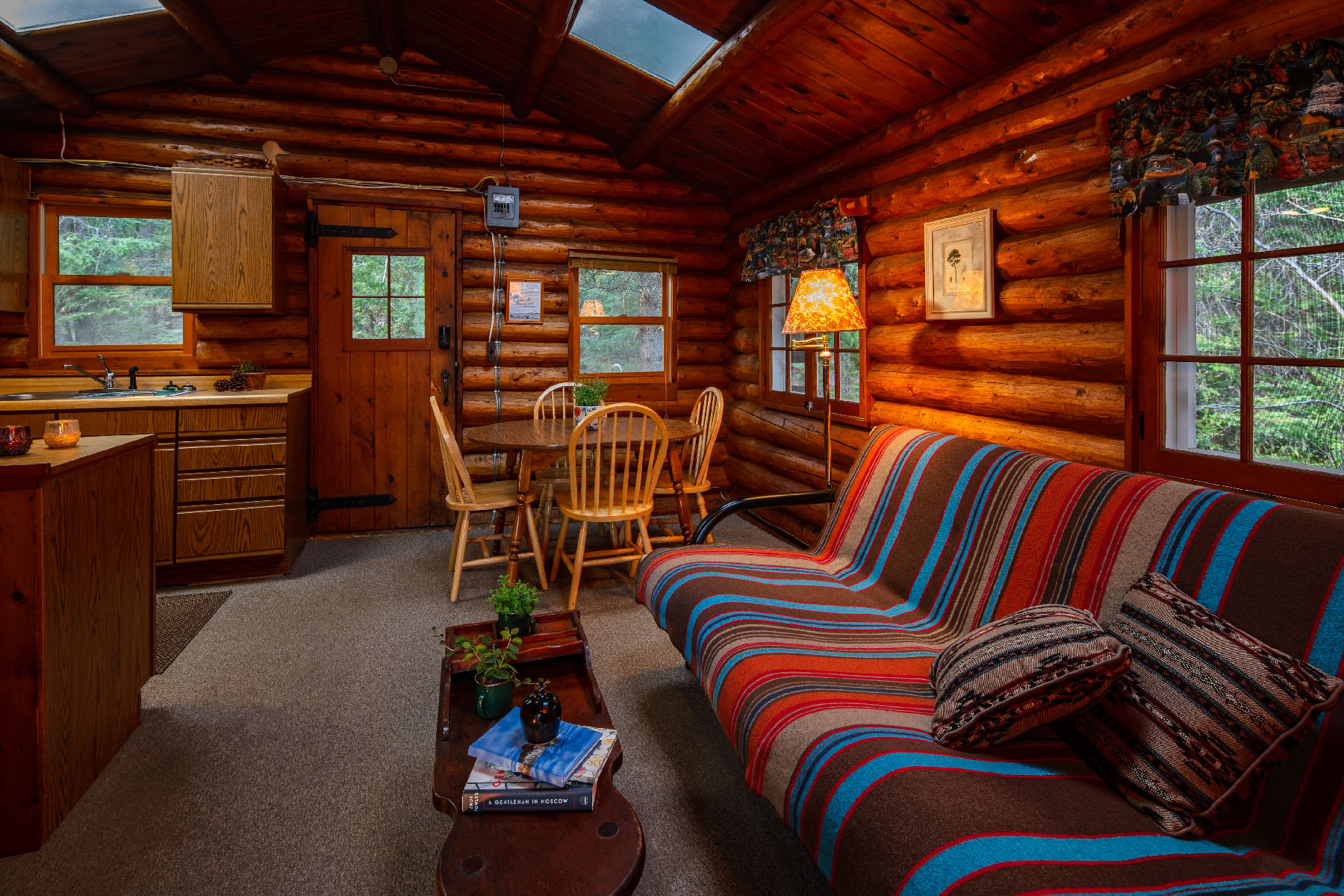 As with all our cabins, you get a canoe, picnic table, charcoal grill, full kitchen, bathroom, fresh linens and towels. The kitchen is stocked with essential items like dishes, pots, pans, and silverware so you can just bring your food. Or better, enjoy one of the great restaurants that the Gunflint Trail has to offer!
Check-In:
Please check in no earlier than 3pm (bunkhouses and cabins).
Check-Out:
Please check out by 9:30am (bunkhouses and cabins).  
Rates subject to 8.375% sales tax and 4% lodging tax (total 12.375%)
---
Pets are welcome! $25 per pet for your stay, please keep your pets under control at all times, and let us know if you need help watching your pet while enjoying the area. 
Additional aluminum canoes with cabin rental are no charge; Kevlar canoes are half price of the daily rental price (Tandems half price is $23/day). Kayaks and standup paddleboards are available at no charge on a first come first served basis; we ask you to return it to outfitting when you are not using it. Motor boats are also available, just ask! 
To make a reservation fill out the calendar below, call us at 888-898-2922 or 218-388-2242, email info@rockwoodbwca.com or facebook message at Rockwood Lodge and Outfitters. Minimum two or three night stay in our cabins (consecutive nights!) - for single night stays, please reserve one of our Bunkhouse rooms. A deposit check of one-third of the total is required within 14 days of making a reservation. 
Cancellation Policy:
If cancellation notice is given 30 days prior to your scheduled arrival or if another reservation can be taken to replace your reservation, your deposit will be refunded minus a $35 service charge. We will send you confirmation of your reservation on receipt of your deposit. We accept VISA, Mastercard, Discover Cards, American Express, paypal, checks, and of course cash!